Modern Foreign Languages
Bienvenue!!!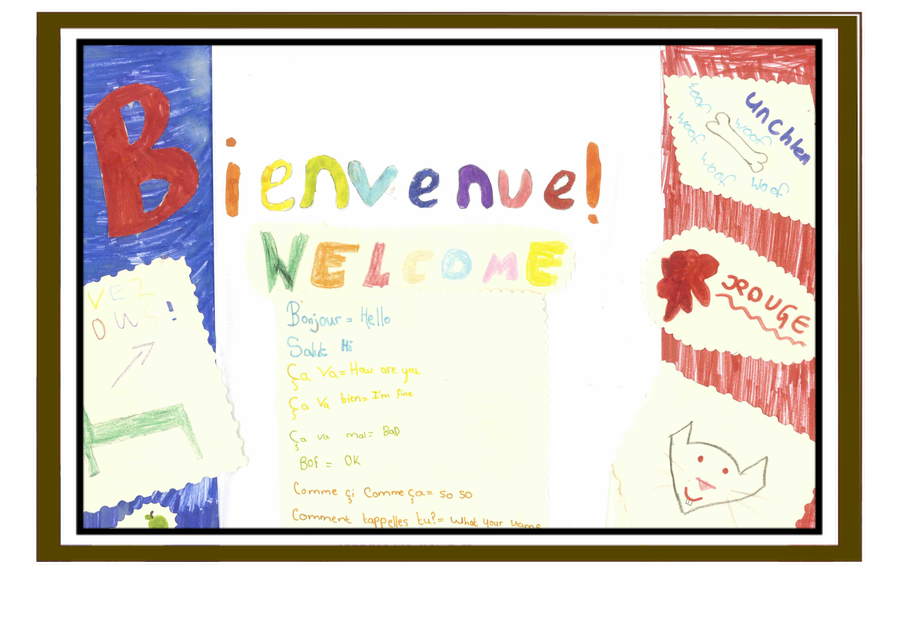 Alice Rowley, Maria Conlan, Ruth O'Leary year 6
The Curriculum:
In 2014 languages became a compulsory element of the primary curriculum.
From 2014 onwards, students aged 7 to 11 are now required to reach a high standard of written and spoken communication in one of seven languages:
French, German, Greek, Italian, Latin, Mandarin and Spanish.
At St Wulstan's we offer French as the feeder secondary schools teach this language.
KS2 have weekly lessons within school, as well as singing songs and practising phrases throughout the school day. We also have the chance to visit or have visitors from our feeder schools in order to watch French plays and take part in French taster sessions.
Activities are planned to encourage maximum enjoyment of the subject;
to develop listening, reading, speaking and writing skills in French, to progress phonics
and to enhance learning in other curriculum areas.
"Educating the mind without educating the heart is no education at all."
Aristotle
Key Stage 2: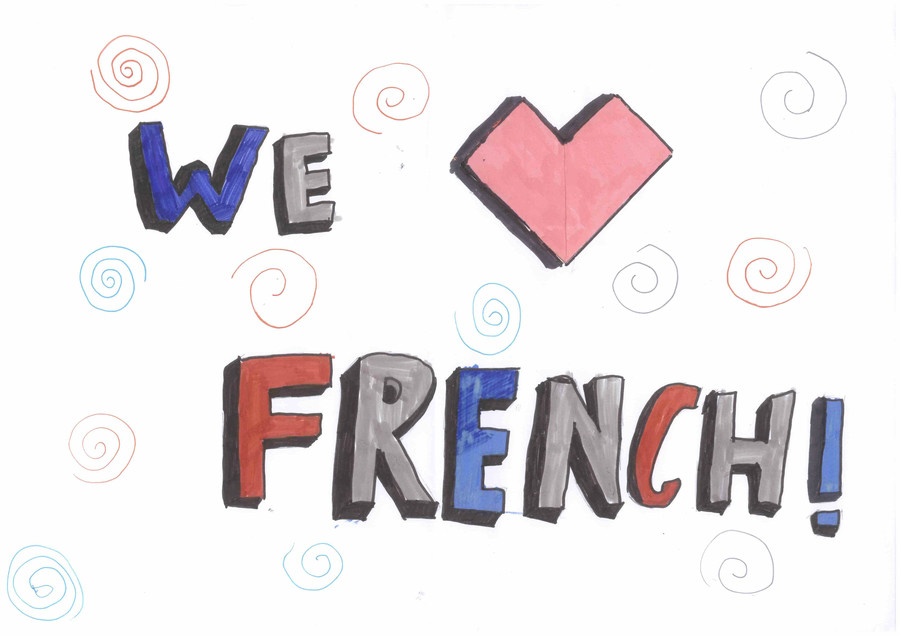 Harriet Booth & Isabelle Hilton, year 5
The children really enjoy learning a new language.
It is very interactive and participatory, which the majority of pupils enjoy.
Pupils of all abilities seem to thrive in language lessons.
They love the opportunity to join in a new subject with confidence and enthusiasm.
Years 3 & 4 loved their French lessons in the autumn term
and the years 5 & 6 have made really good progress.
Pupils can be heard saying "Bonjour Madame Perkin!" from the moment she arrives at school, in the corridors, the lunch hall and the playgrounds.
The written French work produced by years 5 & 6 is of a very good standard indeed.
Ofsted:
In the most recent 2013 Ofsted inspection, they reported:
"Teaching in Key Stage 2 has excellent pace and fully engages all of the pupils throughout the lesson.
In one French lesson, year 5 pupils made outstanding progress
using games and visual aids to learn new vocabulary.
The teacher constantly spoke the language and the pupils enjoyed repeating it and testing each other."
Mrs Perkin thrives on good presentation and rewards this,
as well as excellent oral contribution in lessons.
Students have to complete a 'smile chart' (15 boxes per sheet) say "j'ai fini!"
and are then duly rewarded with a brioche, croissant or pain au chocolat
(depending on what is on offer when she goes shopping!)
The pupils are so competitive; several are on sheet 5! That's a lot of croissants!!!
Our learning of key French phrases and everyday vocabulary covers a wide range of topics:
greetings, classroom instructions, the French alphabet and its sounds, the days of the week and months of the year, colours and numbers, pets and family members.
Pupils have learnt lots of catchy (parents might say annoying!!!) rhymes and songs
to accompany these topic areas.
In lessons, if pupils need to go to the toilet or want some water, they have to ask in French too!!
Some Pupil Comments About French Lessons: Year 5: "I like learning new French words and getting a smile on my sheet!"Jack Bennett "I love French because we always learn new things and Mrs Perkin makes it fun!" Katie Williams I love French because Mrs Perkin's lessons are always really fun!!!" Gianni Loska "I really like French because we learn lots of new things and I just really enjoy learning a new language!" Sarah Longworth "I like everything about French" Harvey Jeffries "We do fun activities and I like practising songs in French" Sarah Wheawall "I like the teacher, and all the fun activities, especially speaking French!" Daniel Stanley
Below is an example of a recent KS2 activity where all pupils were asked to create something memorable on the ipad - that they have learnt this year - using the Book Creator app.
This very catchy one is very artistically created by year 5:
Izzy Hudson-Bath & Jessica Sellers with Megan Dunn
&
Photography by Nathan Hill
Key Stage 1:
Although the children in EYFS and KS1 do not currently learn a foreign language,
Mrs Perkins has taught Year 1 some Spanish:
numbers 1-10 to the tune of "Three Blind Mice" and colours to the tune of Peter Kay's
"Is this the way to Amarillo?"
Here are some photos from that day.
Many children now greet her
"¡Hola Señora Perkin!"
around the school and are keen to share the recent vocabulary they have learnt. Siblings in KS2 (and their parents) have reported that the year 1s have come home singing in Spanish!
Watch this short video clip of some year 1s performing "Uno Dos Tres"!
We only had 1/2 hour to learn some Spanish!
From left to right:
Thomas, Shanaid, Alex, Laila, Wilf
Language Links:
St Wulstan's has a strong language tradition and offers several MFL links throughout the year, with the feeder secondary, Saint John Fisher Catholic College.
For example, on Tuesday June 2nd was the annual Onatti French production for the year 5s. There was a performance and then a French taster session based around some of the vocabulary and ideas looked at in the play. We always receive the script in advance and have some French lessons around the topic.
We are also invited to participate in their celebration of European/ World Languages Day too.
Over the next few years at St Wulstan's we aim to set up a possible partner link school in France and we hope that, in the coming years, pupils will be able to Skype children of their own age. We will also endeavour to have a Languages Day too, linking in with the KS1 My World Topic.